Bracelets & Bangles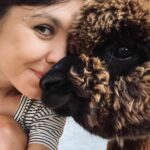 If you're looking for a unique and sustainable accessory that's been created with love and care, I invite you to explore my collection of handcrafted alpaca yarn bracelets.
All my products are expertly crafted and ethically produced in Norfolk, UK, fully respecting the animals. I take pride in ensuring that each bracelet is traceable all the way back to the happy alpaca it came from, and I can tailor each piece to your specific needs with different sizes and colours available.
I use only the highest quality British-sourced yarn in all my bracelet designs, which has been processed in local spinning mills and/or dyed by local artists.
Showing 1–12 of 104 results